Le Grange Gites - Fishery
We are proud to announce the purchase of our well-stocked Fishery
Which is now open to our Gite guests - All year round
No additional French Fishing licences are required at our lake
The lake is ¾ acre in size and has a depth to 6 feet
The lake is set in 4 acres of grounds with many mature trees and shrubs, it is an
anglers paradise, see the pictures below
Le Grange Gites Fishery is located just 15 minutes from our Gites, directly beside
the Nantes - Brest Canal in Josselin, with direct access to the Canal path, fully
enclosed it is a very peaceful place
So perfect for a family day out, parking at our fishery, a spot of fishing, then
either cycling or taking a 15 minute walk along the Canal arriving at the Chateau
into the heart of Josselin
We have also arranged access to a 7 acre Fishing Lake
(Please note you Do Not need a french rod fishing licence for this lake, provided you have a fishing card from us)
located just 8 minutes from our Gites, for a limited number of anglers per week, Carp here to 40lb plus,
Good Tench also and stocked with trout, this second lake is open from 8am 2nd March 2019 to
the evening of 31st December 2019 - Some Details and Pics Below - see the aditional lake section
NEWS - 2014 Lake De-Silting work
The work was complete by the end of December 2014
If you wish to see photos of the work we have carried out please click the link below
NEWS - December 2014 Lake De-Silting
Fishing ticket costs:
6 euros per day per adult (16 and over) - weekly price 20 euros - additional weeks 1/2 price
4 euros per day per child (under 16) - weekly price 10 euros - additional weeks 1/2 price
All under 16's must be accompanied by an adult
Use of the lake subject to our Terms and Conditions for your safety
Tackle hire and bait available from our Gites if require, although you are welcome to bring your own
Click here for Bait and Tackle Hire Prices
THE LAKE
THE LAKE LAYOUT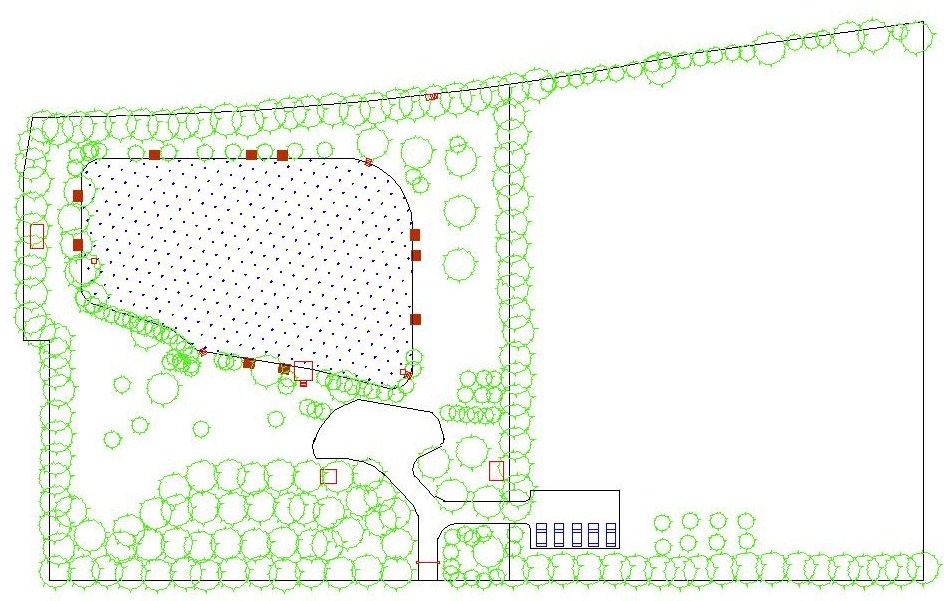 THE FISH
Fish in the lake include:
Common Carp, Mirror Carp, Grass Carp, Koi Carp, Crucian Carp,Bream
Roach, Rudd, Perch, Gudgeon, Sun Perch, Eel and Tench
The lake has 10 purposely made swims / pegs, sited around the lake for your comfort,
Each peg has a 2M x 1.5M level area for positioning for seating, tackle etc
After purchasing the lake in June 2010, it was full of weed and lily pads, it was not
fished for many years, so we cleared the majority of the weed and cut back the lily pads
in the summer of 2010. The lake also contained some large Carp along with
many other species, such as Bream, Roach, Rudd etc, these fish are still present.
So far we have found the best bait for the carp is a small handful of pellets and a
little corn thrown into the swim, followed by some Sweetcorn on the hook
So great fun and easy for a small competition, or fantastic for the kids, as
they can go home with some pictures and stories of the one they caught or the one
that got away!
Click here for Bait and Tackle Hire Prices
Additional Lake - * Free when paying to fishing at our lake
Below are some pictures of some of the fish and lake at our additional access lake
Good numbers of trout can also be caught here, maximum 8 per day per angler can be taken
The lake holds, Carp, Tench, Roach, Rudd, Bream, Trout and Pike.
There are some competitions on this lake, so for some days each year you cannot fish unless you want to join in (dates are shown within the Gite out and about book)
Maximum 2 Rods per angler on this lake
* Important Note - We have a limited number of Communual Fishing Cards for this lake and we offer them free of charge when paying to fish our lake
Please note that as we have no control over the additional lake, the lake is
Subject to the owners opening time, rules and regulations, that could change without notice
THE GROUNDS - back to our Lake
Below are some pictures of the grounds, trees and plants, we also have a 2 acre field attached to the fishery
You have parking on site and direct access to the Canal path
Click here for - Other Fishing Locations near to our Gites and French Fishing licence information
Click here for - Our Personal Fishing Holidays Web Page